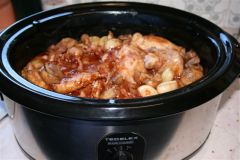 Crockpot Coq au Vin Recipe
Hearty French Chicken Recipe
This crockpot Coq Au Vin recipe requires a bit more effort than "throw it in and leave it to cook". You actually have to chop and brown most of the ingredients before you throw them in the Crockpot.




French Cooking
If you are keen for a taste of France, then this is a superb dish to make. The bacon and the wine (Coq au Vin means Chicken in Wine) make a rich red wine sauce as the flavours develope during the cooking process so a bit of extra preparation and effort has it's rewards.
May I suggest that you do try to use a good quality red wine. It doesn't have to be from Burgundy but it really does make a difference to use a good red wine as opposed to a cheap one.
You might want to try this Coq Au Vin Recipe

if you are not using a crockpot.
Crockpot Coq Au Vin Recipe Ingredients
8 Chicken thigh pieces
3 Bacon slices (Pancetta does nicely)
1 teaspoon Salt
1/2 teaspoon dried Thyme
8 Small white onions (pickling onions)
1/4 cup tomato paste
2 cups good red wine
2 teaspoons Chicken stock powder
1 Clove crushed garlic
1/2 lb (250g) button mushrooms
2 tablespoons Butter
1 1/2 tablespoons Cornstarch (cornflour)
2 tablespoons cold water
How To Cook Crock Pot Coq AUu Vin
Cook the bacon and chopped onion in large frying pan until the bacon is crispy. Transfer to crockpot. Season the chicken with the salt and the thyme. Place the chicken thighs in the frying pan and brown on all sides. Transfer to crockpot.
Peel the whole onions and chop the mushrooms. Brown these in thefrying pan then add to the slowcooker. Pour the wine into the frying pan,stir to loosen all the tasty brown fried bits. Add the chicken stock powder and tomato pastestir until it has dissolved. Pour this over the chicken and add the crushed garlic to the crockpot.
Cover and set the heat to low for about 4 - 6 hours. Just before you are ready to serve, mix the cornflour and water to a paste and add to the Coq au Vinto thicken it up. I like to serve Crockpot Coq Au Vin with mashed or boiled potatoes because you can soak up the red wine gravy.
More Delicious Chicken Recipes
Try this for comfort food - Coq au vin Chicken Pie Recipe


More Chicken Cooked In Wine Recipes
Crockpot Chicken Cacciatore Recipe
Tuscan Garlic Chicken Recipe
Famous Chicken Marsala Recipe
Lemon Chicken Casserole Recipe
Quick Chicken Curry Recipe
Chicken Chasseur Recipe
Spanish Chicken Recipe
Chicken Basquaise - French Chicken Casserole Recipe
Chicken Recipe Search Tool
If you can't find what your're looking for, you might want to try our easy-to-use Chicken Recipe Search Box. You can also use it to find anything else you might want to search for on the wider web.
Top Of CrockPot Coq Au Vin Recipe

Crockpot Recipes Mainpage



Chicken Recipes Homepage