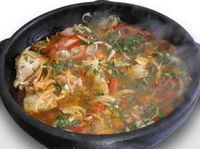 Slow Cooker Chicken Marengo Receipe
Classic French Receipe - Chicken Marengo
This classic French Slow Cooker Chicken Marengo Recipe works really well in a slow cooker / crock pot.
The history of this fascinating dish goes back to the days of Napoleon. In about 1800 he was served this dish by his cook just before winning his most brilliant battle. Being superstitious he insisited that it be served after every battle.


Chicken Marenngo Recipe Ingredients - Serves 6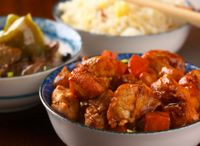 The original Chicken Marengo Recipe included a lobster for garnishings but most recipes today leave this out.
A variation to the recipe below is the addition of mushrooms.This recipe makes great dinner idea and can be served rice or couscous.

2kg (4lb) chicken pieces
1 tablespoon flour
salt and pepper for seasoning flour
1 tablespoon olive oil
1 tablespoon butter
2 cloves garlic, crushed
1 cup chicken stock
3 tablespoons brandy
2 large tomatoes, peeled and chopped
12 mushrooms, chopped
1 bouquet garni (seasoning bag)
How to Cook Crock Pot Chicken Marengo
Dry the chicken pieces and dredge (coat) with the flour that has been seasoned with the salt and pepper. Heat the oil and butter in a pan and brown the chicken pieces on all sides over a medium heat. Remove from the pan, and place on kitchen paper to drain the excess oil. Place browned chicken pieces in the slow cooker.
Add the garlic, chicken stock, brandy, tomatoes, mushrooms and herbs. Cover the crock pot with the lid and cook on low for 6 - 8 hours or high for 4 - 6 hours.
To thicken the Marengo sauce, blend 1 tablespoon of flour with 1 tablespoon of butter until smooth. Remove the chicken from the slow cooker, drop the butter/flour mixture into the sauce and cook on high for 10 minutes.
Click here for a few tips on how to cook rice perfectly to go with your Slow Cooker Chicken Marengo.




Find Your Favourite Chicken Recipes
If you can't find what your're looking for, you might want to try our easy-to-use Chicken Recipe Search Box. You can also use it to find anything else you might want to search for on the wider web.


Top Of Slow Cooker Chicken Marengo

Chicken Marinade & Sauce Recipe

More Chicken Stews & Casseroles

Crock Pot Recipe Main Page

Chicken Recipe Homepage