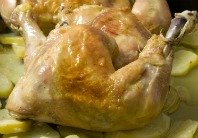 Crock Pot Roast Recipe
Crock Pot Roast Chicken
I was absolutely impressed with the results from this crock pot roast recipe for chicken. Besides the fact that its so easy and convenient, it also results in delicious, tender, juicy chicken. I even figured out a way to get the skin crispy.



The only downside to crock pot roast chicken is that the skin is never crispy like the oven roast chicken. But I figured out a way to get a crispy skin. I take the chicken out of the crockpot half an hour early and then roast or grill it for 15 minutes to crisp up the skin. The tricky bit is getting the chicken out the crock pot without it falling apart.
One method that works quite well is to make a sling of aluminium foil and line the bottom of the crock pot with that before the crock pot cooking time and then slow cook the chicken on top of the foil. I haven't tried the foil sling but crisping up the chicken skin under the grill worked really well. Oh and by the way, if you're worried about using aluminium foil because of it's possible link to Alzheimer's disease the please see this link: Aluminium and Alzheimer's Disease
Crock Pot Roast Recipe For Chicken - Ingredients
1 whole roasting chicken (giblets removed)
2 tablespoons of your favourite type of cooking oil ( I use grapeseed oil)
2-3 tablespoons of your favourite seasoning (I use garlic and herb)
1 heaped teaspoon of crushed garlic
100ml white wine
How to Cook Crock Pot Roast Chicken
If you are going to line the slow cooker / crock pot with heavy duty aluminum foil then what you need is two pieces of foil about 3 feet long. Fold each piece in half lengthwise and press into the slow cooker to form a sling. The ends of the aluminum foil should hang over the sides of the pot.
Rub the oil over the whole chicken and then season well inside and out. Put the garlic into the cavity of the chicken and then gently pour the wine into the cavity of the chicken. Place chicken breast side up in slow cooker on top of foil sling, cover, and cook on LOW for 6-7 hours or on HIGH for 4 hours.
To crisp the skin in your oven: - Preheat oven to 500 degrees F. Remove chicken from slow cooker using the foil sling and place on rimmed baking sheet.
When oven is preheated, roast chicken for 15 minutes or until the skin is nice and crispy. Be sure to watch it carefully cause the chicken can easily dry out and the skin start to blacken if left for too long.
Remove from oven and allow to rest for 10-15 minutes before carving.
The juices that are left in the bottom of the crock pot make a fantastic stock or gravy so be sure to keep them.

Top of this Crock Pot Roast Recipe for chicken

Crock Pot Chicken Recipes Mainpage

Chicken Recipes Homepage