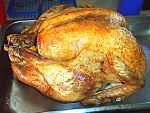 Chinese Roast Chicken
Roasted Chciken Recipe with an Asian twist
I like to call this Chinese Roast Chicken my "Red Roast Chicken Recipe" because the result is a moist, tender chicken with a lovely dark red/brown skin. It makes a delicious "Roast Whole Chicken Recipe".



Chinese Oven Roasted Chicken Recipe Ingredients
1 whole roasting chicken
125ml (1/2 cup) soy sauce
30 ml (2 Tbs) honey
3 cloves of garlic
30 ml (2 Tbs) sherry
15ml (1 Tbs) finely chopped green ginger
15ml (1 Tbs) cornflour
1 teaspoon vegetable oil
30 ml (2 Tbs) lemon juice
How to make Chinese Roast Chicken
Prepare the chicken by rinsing it and drying it thoroughly. Remove the innards/giblets if necessary.
Crush the garlic and combine it with all the other marinade ingredients. Place this in a large plastic bag that will be big enough to hold the chicken too. Place the chicken in the bag of marinade and turn it over to get it coated. Let the marinating chicken stand in the fridge for a few hours.
When you are ready to roast the chicken, place it on a roasterin a preheated oven (180 degrees C or 350 degrees F) and cook until the juices run clear when tested and the chicken is done. You can baste the chicken during the cooking process with the marinade.
Roasted Chicken Recipe Notes: The Roast Chicken Cooking Time may vary according to your oven heat setting and the size of the chicken you use.

More delicious Roast Chicken Recipes

Try out my other Chinese Chicken Recipes


Top of
Chinese Roast Chicken
Great Chicken Recipes Homepage