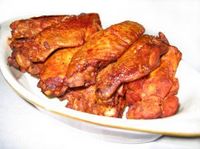 Grilled Chicken Recipe
Hoisin-Glazed Grilled Chicken Breasts

This is a tasty Grilled Chicken Recipe. Recipes for grilling are often low fat because it doesn't require cooking oil so it's a great way to cook healthily.





Chicken breasts work particularly well as they are a thin, lean cut of meat. This is an advantage because they cook through before they dry out.

This chicken dish is served with cabbage slaw salad.

Serves 4 - Cooking time 40 minutes
Grilled Chicken Recipe Ingrediets
4 boneless, skinless chicken breasts
1/3 cup hoisin sauce
1 tablespoon low-sodium soy sauce
1 tablespoon and 1 teaspoon of rice vinegar (separate amounts)
3 cups shredded green cabbage
1 red pepper, cut into strips
1 green pepper, cut into strips
3 spring onions, cut into strips
1/2 cup fresh coriander leaves
How to Grill Chicken
Heat up your grill on high. Rinse the chicken breasts and dry them with paper towel. Pound the chicken fillets to an even thinness then place them on the grill pan. In a bowl, whisk together the hoisin sauce, soy sauce and1 teaspoon of the vinegar to make the glaze. Transfer 2 tablespoons of the glaze to a larger bowl and stir in the remaining vinegar. Add the cabbage peppers, spring onions and coriander and toss together. Cover and refridgerate.
Pour 1 tablespoon of the remaining glaze into a small bowl and set aside.Now brush the grilling chicken with what's left of the glaze and start grilling the chicken while brushing with the glaze occassionally until cooked.
It should take about 8 minutes. Spoon some of the remaining glaze over the top of the chicken breasts and serve with the slaw.
Our "Cooked Up" Newsletter



You might love to receive our personal newsletter called Cooked Up. It's packed with great recipes, cooking tips and other interesting news. I invite you to safely subscribe in the form below..... Oh and of course it's free!




Grilled and Baked Chicken Recipes Main page

Top of Hoisin Grilled Chicken Recipe

Chicken Salad Recipes Main page


Chicken Recipes Homepage