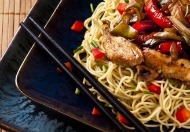 Sweet and Sour Chicken Recipe
Chinese Stir-Fried chicken

Nothing says "Chinese cuisine" more than a sweet and sour chicken recipe. Combine that with a stir fry cooking method and you'll be greeting your dinner guests with a 'Nín hǎo' ('hello' in Chinese).



This is a seriously delicious Chinese chicken stir fry dish and if you have time, place the peppers under the grill first to blacken the skins. Then peel off the outer skin which makes the peppers sweeter and very delicious. The pineapples also give this chicken recipe a lovey sweetness.
Serves: 4 - 6
Sweet and Sour Chicken Recipe Ingredients
Sweet Marinade Ingredients:
45ml (3 tbsp) soy sauce
20ml (4 tsp) sweet white wine

Stir Fry Ingredients

5 chicken breasts, skinless and deboned, cut into thin strips
10ml (2 tsp) cornflour
45ml (3 tbsp) oil
1 garlic clove, finely chopped
20ml (4 tsp) fresh ginger, finely chopped
2 small carrots, thinly sliced
1/2 onion, finely chopped
1/2 red pepper, seeded and thinly sliced
1/2 yellow pepper, seeded and thinly sliced
200g oyster mushrooms, sliced
handful bean sprouts
2 pineapple rings, finely sliced
2 spring onions, diagonally sliced
2,5ml (1/2 tsp) Chinese five-spice
cooked rice or noodles
How To Make Sweet and Sour Chinese Chicken
Mix the soy sauce and wine together in a bowl and add the chicken breast strips. Make sure the chicken strips are well coated with the liquid and leave to marinate for a least 2 hours.
Take the chicken breast strips out of the marinade. Roll the marinated chicken pieces in the cornflour.
Heat 30ml (2 tbsp) of the oil in a wok or large frying pan and fry the coated chicken breast for a few minutes on all sides, turning until they done and slightly crispy on the outside. Remove them from the pan and set aside.
Heat the remaining oil in the same pan and saute the garlic and ginger for a few seconds. Add the carrots, onion, peppers, mushrooms and sprouts and stir-fry for a minute, stirring continuously. Return the chicken to the pan, together with the pineapple, spring onion and five-spice. Toss quickly to heat through and serve with rice or Chinese style egg noodles.
More Chinese Chicken Recipes
Chicken Stir Fry Recipes
These two chicken stir fry recipes are quite exotic and very flavourful. The lemon grass in the first one adds the most fantastic aromas and the mango in the second one just goes so well with chicken.

Cashew Chicken Stir Fry Recipe

Hoisin Grilled Chicken can be ammended to make a lovely Chinese Chicken Wings Recipe

Chinese Chicken and Brocolli


Chicken Recipe Search Tool
If you can't find what your're looking for, you might want to try our easy-to-use Chicken Recipe Search Box. You can also use it to find anything else you might want to search for on the wider web.




Top of this Sweet and sour Chicken Recipe

Great Chicken Recipes Homepage