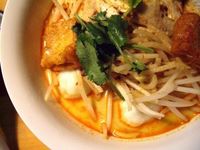 Asian Chicken Soup Recipe
Try A Chicken Soup Recipe With Oriental Flair
When time is not on your side this Asian Chicken Soup Recipe is easy to make and quick to prepare. It's a great homemade soup and you can throw in a few noodles to make it more filling. It has all the classic Asian food ingredients but nothing too complicated.


Asian Chicken Soup Recipe Ingredients
Serves 2
30 ml olive oil
15 ml grated ginger
2 cloves gralic, crushed
4 chicken pieces (thighs or breasts)
1 carrot, thinly sliced
100g sliced brown mushrooms
500ml (2 cups) chicken stock
30ml soy sauce
30ml rice wine vinegar
How To Cook Asian Chicken Soup
In a large pot heat the oil and add the ginger, garlic, chicken,carrots and mushrooms. Fry until the mushrooms are tender - about 5 minutes.
Add the chicken stock, soy sauce and rice vinegar, then simmer until the carrots are tender.
So easy, so fast, so tasty for a simple supper or lunch.


"Let's Do Lunch With Hassle Free Thai Soup Recipes."
---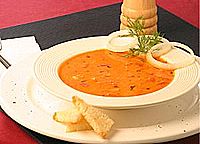 Thai Chicken Soup Recipe
A quick and easy soup that can be served as a starter or main meal with bread rolls. This chicken soup can also be made in bulk and frozen for later use.

Chicken Soup Recipe Ingredients
Serves 4
a little olive oil or cooking oil for frying
half an onion, finely chopped
15 ml Thai Red Curry Paste
15 ml Tomato Paste
300 ml Chicken Stock
100 ml Mango juice
1 x 400gram tin coconut milk
500 gram (1/2 lb) chicken breasts, thinly sliced into strips
How to Cook Thai Chicken Soup
Heat the cooking oil or olive oil in a large pot and fry the onion until it's gone soft. Add the red curry paste and the tomatopaste, cook for another minute, stirring continuously.
Add the chicken stock, mango juice and coconut milk. Bring this to the boil and then reduce the heat before ading the chicken breast pieces.
Simmer for another 10 minutes or until the chicken is cooked through. Serve the Thai Chicken Soup with fresh bread rolls or Ciabata and a green salad.





More Chicken Soup Recipe Ideas

This This Chicken Noodle Soup Recipe is a great Oriental Chicken Noodle Soup to serve as a starter.

Top Of This Asian Chicken Soup Recipe

If you like oriental dishes try this Indian Spiced Chicken Kebab Recipe with Coriander-mint sauce


Find Your Favourite Chicken Soup Recipe
If you can't find what your're looking for, you might want to try our easy-to-use Chicken Recipe Search Box. You can also use it to find anything else you might want to search for on the wider web.