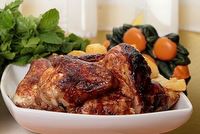 Maple Roast Chicken Recipe
Oven Roasted Chicken Recipe With Vegetables
This Roast chicken Recipe has a superb sweet, garlic baste. The Maple coated chicken legs are oven roasted on a bed of potatoes and vegetables with fresh sprigs of thyme and extra garlic to make a flavour-packed Sunday lunch.
Maple Roasted chicken Recipe with Potatoes and Thyme
750g / 1lb / 10oz small new potatoes, cut in half
2 small red onions, cut into wedges
1 head of garlic, separated into cloves and peeled
2 tbsp olive oil
2tbsp maple syrup
1 heaped tbsp wholegrain mustard
1 large red pepper, deseeded and cut into chunky pieces
2 large courgettes (baby marrows), halved lengthways and very thickly sliced
few sprigs fresh thyme
4 large chicken leg portions (thigh and drumstick)
How To Roast Chicken
Heat your oven to 200 C/350 C/gas mark 6. Mix the potatoes, onions, garlic cloves (leave 2 aside) and half the oil in a large roasting tin with salt and pepper to taste.
Roast for 15 min.
While the potatoes are roasting, crush the remaining 2 garlic cloves and mix with the maple syrup, mustard, remaining oil and season to taste.
Remove the potatoes from the oven and toss in the red pepper, courgettes and thyme. Arrange the chicken portions on top of all the veggies and brush liberally with the maple syrup mixture. Roast for 45 mins to 1 hr until the chicken legs are golden and sticky and the vegetables are tender. Serve the oven roasted chicken with your choice of salad.
Find Your Favourite Chicken Recipe
If you can't find what your're looking for, you might want to try our easy-to-use Chicken Recipe Search Box. You can also use it to find anything else you might want to search for on the wider web.


Try these delicious Garlic Chicken Recipes

More Chicken Marinade Recipes

Roast Chicken Recipe Mainpage

Chicken Recipes Homepage