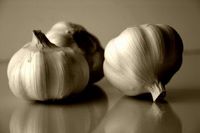 40 Clove Garlic Chicken Recipe
I found this 40 Clove Garlic Chicken Recipe and had to try it out for dinner because the 40 cloves of garlic really intrigued me.



That's a lot of garlic for a baked chicken recipe, even for a garlic lover so I wasn't sure what to expect. Its suprising because garlic comes out quite mild and has a buttery texture when cooked through.
You can use chicken breasts for the recipe if you don't like the dark meat of the chicken thigh.
40 Clove Garlic Chicken Recipe Ingredients
1/3 cup all-purpose flour
1 tablespoon black pepper
1 tablespoon salt
2 tablespoons paprika
1 tablesppon sugar (optional)
3 tablespoons olive oil
6 chicken thighs,
40 cloves garlic, peeled (about 3 heads of garlic)
3 stalks celery, diced
1 medium onion, sliced
3 Tbs Cognac
1 cup dry white wine
1 cup chicken broth / Stock
2 sprigs fresh rosemary
2 sprigs fresh thyme
2 bay leaves
How To make 40 Clove Garlic Chicken
to peel the garlic more easily, you can drop the cloves into boiling water for 60 seconds. They squeeze right out of their skins.
Preheat oven to 180 degrees C / 375 degrees F.
Make a seasoned flour mix by combining the flour, paprika, salt, pepper and sugar in a large plastic bag
Place 1 chicken thigh at a time in the flour mix and shake the bag to coat the chicken.
Heat oil in a large ovenproof pan (such as a cast-iron pot)over a medium-high heat.
Brown chicken on both sides to seal in the juices and then remove from the pan.
Add garlic, celery and onion; saute until lightly browned. The smell is heavenly if you are a garlic lover, if not then this will be overpowering.
Add wine, cognac, chicken broth, and herbs, then place the browned chicken thighs on top, skin side up;bring to a simmer.
Cover the pan and transfer to the oven and cook for a further 45 minutes.
More Chicken Casserole Recipes
More Baked Chicken Recipes
Tuscan Garlic Chicken Recipe
More Garlic Chicken Recipes
Top Of 40 Clove Garlic Chicken Recipe
Chicken Recipes Homepage