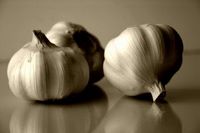 Baked Garlic Chicken Recipe
Garlic Chicken Recipes work well because Chicken meat is fairly bland on it's own so garlic is a great way to get flavour into the meat.


Garlic is an a amazing flavourant because it has a different taste depending on how it's cooked - it can have a subtle sweet flavour to a strong almost overpowering one.
Garlic is also well known for its health benefits
Here are two of my favourite garlic recipes.
This Baked Chicken Recipe is simple to prepare and makes cookinga great meal easy. You can use any chicken pieces that you prefer.
Serves 4
Garlic Chicken Recipe Ingredients
2 Tbsp olive oil
1/2 tsp butter
1 onion, chopped
8 chicken drumsticks
1/2 cup chicken stock
4 cloves garlic, minced
thyme, salt and pepper
hot cooked rice enough for 4
Cooking Instructions
Preheat oven to 375° F ( 190° C).Heat the oil and butter in a frying pan. Add the onion andchicken drumsticks and brown the chicken on all sides.
Add the chicken stock, scraping any bits of chicken off the bottomof the pan. Place the chicken in a large oven-proof casserole dish.Sprinkle the garlic over the chicken and season generouslywith thyme, salt and pepper. Pour the cooking juices from the pan over the chicken.
Cover the casserole dish and bake, basting often withthe pan juices, for 40 minutes. Serve the chicken and pan juices over hot rice alongwith seasonal vegetables or a salad.

If You like Garlic Chicken Recipes then try this amazing 40 Clove Garlic Chicken Recipe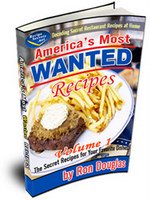 Looking for ideas for dinner?
Get inside the hidden cookbooks of America's favorite restaurants. The secret recipes for over 100 all-time favorite dishes have now been revealed in this best-selling new cookbook.
Prepare dishes you know they'll love and save money by easily making them at home.
Get free sample recipes just for visiting the site.
See the full list of Americas Most Wanted Secret Recipes
---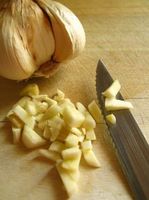 Delicious Garlic Chicken
This Garlic Chicken Recipe can be made in one pan on top of the stove so its not realy a baked recipe but it is very garlic.
1,5kg chicken joints
olive oil
a thick slice of butter
6 large cloves of garlic
1 small bunch of fresh mixed herbs
1 large glass of dry white wine or chicken stock
Cooking Instructions
Rub chicken pieces all over with olive oil and black pepper.
In a large pan warm a little olive oil, then add the butter.Add chicken pieces and brown all over. Squash the garlicwith the blade of a knife and add to chicken. Reduce heat, add salt and cover pan and cook for 30 to 45 minutes turning chicken to colour on all sides.
Remove chicken, turn up the heat, pour in the wine or stock and add the herbs. Reduce the sauce slightly. Check for seasoning and spoon over chicken.
Delicious served with mashed potato and vegetables.
Using fresh garlic instead of ready-crushed from the store gives much better flavour. Growing your own garlic is easy and fun and you don't have to be a gardener. Each clove will produce a garlic plant with a single bulb that can contain up to 20 cloves. Enjoy growing your own garlic for your garlic chicken dishes.
Baked Chicken Recipes Mainpage

Maple and Garlic Roast Chicken Recipe