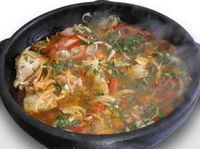 Chicken Casserole Recipe
Try some Basque Cooking with this classic Fench chicken Recipe
Chicken Basquaise is a French Chicken Casserole Recipe that is popular in the Basque Country, a region that straddles the French-Spanish border along the western Pyrenees and the rugged coastline of the Bay of Biscay.


This Basque Cooking recipe has the most wonderful flavours and should be left for a day to develope. A whole Chicken is cut into pieces and cooked in a wine sauce called piperade - made by sauteing onions, tomatoes, and bell and chili peppers.


Chicken Basquaise - Chicken Casserole Recipe Ingredients
Serves 4
100ml olive oil
1 chicken, cut to 8 sauté pieces with skin on
100g flour, for dusting
salt and freshly ground black pepper, to taste
5 sprigs thyme, chopped
2 sprigs rosemary, chopped
1 red onion, peeled and finely sliced
400ml dry white wine
200ml chicken stock
1 bay leaf
peel of 1 lemon
5 ripe plum tomatoes, cored or 1 tin of whole tomatoes (skins removed)
1 red pepper, seeded and quartered
1 green pepper, seeded and quartered
1 yellow pepper, seeded and quartered
3 garlic cloves, peeled and crushed
50g Italian parsley, roughly chopped
How to make Chicken Basquaise - French Chicken Casserole
Preheat the oven to 200°C.
First blanche the tomatoes if you are using fresh ones: bring a large saucepan of water to a boil. Have on hand a large bowl of very cold water. Add half of the tomatoes to the boiling water and blanch for 15 seconds. With a slotted spoon, transfer the tomatoes to the cold water. Blanch the remaining tomatoes in the same way. Set the bowl under a cold tap so the water stays cold. Lift out the tomatoes. Use a paring knife to peel the skins. Halve the tomatoes lengthwise and remove the seeds. Coarsely chop the flesh.
Heat the olive oil in a large casserole over high heat.Dust the chicken pieces with the flour to evenly coat, and season well with salt and pepper
Brown the chicken pieces very well in the olive oil and add the herbs. Add the onion and continue browning. A
dd the white wine to deglaze the bottom of the pan and then pour on the stock. Add all the remaining ingredients including the chopped tomatoes except the parsley and bring to the boil.
Transfer the casserole to the lowest shelf in the oven and reduce the heat to 180°C. Check after 20 minutes and cook further if required.
When done, remove the casserole and allow to cool slightly. Adjust seasoning and add the parsley. Serve with thick slices of crust sourdough bread.

More Chicken Casserole Recipe Ideas

Chicken Crock Pot Casserole Recipes

Chicken Recipes Homepage