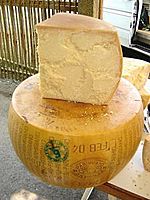 Chicken Parmesan Recipe
Chicken Parmigiana Recipe
If you can find a good Chicken Parmesan Recipe then you've struck gold. It is a real classic favourite and even fussy kids like this chicken recipe. It's a tasty way to cook chicken strips especially for a larger crowd.
It's the Parmesan cheese and garlic combination that make this recipe so delicious. Parmigiano-Reggiano as it's known in Italy is the best Parmesan cheese.This hard-textured cheese is made from skimmed or partially skimmed cow`s milk.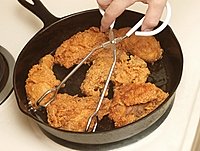 "Delicious Parmesan and Garlic Combination For A Superb Italian Meal."
It has good sharp flavour and used mainly in it's grated form - freshly grated is best. It seems that Parmesan goes well with chicken recipes. You might want to look at my personal favourite
Chicken Alfredo Recipe
for more Chicken Parmesan Recipe ideas.
When it comes to Parmesan Chicken, I prefer the oven fried Parmesan Chicken Recipe, it always gets rave reviews and is easy to make.
The melted butter can be substituted with beaten egg. Some health consious, creative cooks have tried using yogurt for the wet coating but said it didn't turn out as well as the butter.
If you cannot eat bread then you can substitute the bread crumbs for crushed tortilla chip and cornflakes.
If you have the time there is a delicious crushed garlic and olive oil marinade that will really enhance the flavour of the chicken before you coat it with the crumbs.
The second Chicken Parmesan Recipe is actually called crispy yogurt chicken but it is really similar to chicken parmigiano (parmesan). As I mentioned, some cooks have found that the crumbs didn't stick as well with the yogurt.
Optional Garlic and Olive Oil Marinade
2 tsp. crushed garlic
1/4 cup extra virgin olive oil
How To Make Chicken Marinade
Combine the crushed garlic and olive oil in a pan and heat until it's just warm. Place the chicken strips and the warm garlic oil in a zip lock bag and place in the refrigerator to marinade all day or as long as you have.
Chicken Parmesan Recipe 1 - Ingredients
: Serves 4 - 6
2lb skinless chicken meat cut into strips
1 clove of crushed garlic
1/2 cup melted butter
1 cup dried bread crumbs (or your substitution)
1/2 cup Parmesan cheese (Parmigiano-Reggiano is good)
2 Tablesppons freshly chopped Parsley
small pinch salt
small pinch garlic salt
1 tsp. Italian Herb mix
Parmesan Chicken Cooking Instructions
Preheat the oven to 425 degrees F or 220 degrees C.
Combine the minced garlic and melted butter in a bowl.
In a seperate bowl combine the bread crumbs, Parmesan cheese,parsley, salt, garlic salt and Italian herb mix.
Dip the chicken strips (marinade or plain) into the garlic butter, then into crumb mixture to coat.
Place coated chicken pieces on to a baking dish, leaving someroom between the pieces. Drizzle with remaining garlic butter and bake uncovered.
Test at about 15 minutes to see if the chicken is cooked through and juices run clear. The parmesan chicken will be nice and browned especially on the bottom.
Chicken Parmesan Recipe 2 - Ingredients
Serves 4