Roast Chicken  & Lemon Stuffing Recipe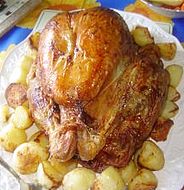 Succulent Roast Chicken With Fragrant Lemon Herb Stuffing
I will gladly forfeit a Sunday nap if it means that I am invited to Sunday lunch. Better still if it's Roast Chicken being served. As a child I loathed such occasions and was ever-hopeful that my request to "please be excused" would be granted.
Lingering at the table long after the meal was done seemed insufferable then and yet now as an adult, I savour every bit of family time I can get. 

With our tradition of roasted chicken for Sunday lunch, I have books full of favourite variations to the standard recipe. I found this Roast Chicken Recipe with lemon stuffing in an old newspaper clipping. Origanum and Thyme are the perfect herbs for chicken and the lemon also tenderises the meat.  Use stale bread crumbs to make this lemon stuffing for your roast.

Ingredients For Roasting Chicken With Lemon Stuffing
1 large roasting chicken
750ml (3 cups) fresh breadcrumbs
1 onion, finely chopped
10ml (2 teaspoons) grated lemon rind
5ml (1 teaspoon) dried origanum
2ml (1/2 teaspoon) dried thyme
30ml (2 Tablespoons) finely chopped parsley
1 egg
45 ml (3 Tablespoons) lemon juice
salt and pepper
2 tablespoons olive oil
How To Cook Roasted Chicken

Preheat the oven to 180 degrees C or 375 degrees F.
To make the stuffing, put the bread crumbs in a bowel and stir in the chopped onion.
Mix all the rest of the stuffing ingredients into the breadcrumb / onion mix.
Remove the giblets/innards from the chicken if they are still inside.
Fill the chicken cavity with the stuffing. You can truss the chicken if you want to.
Rub olive oil over the outside of the chicken skin and then season with salt and pepper.

Place the stuffed chicken in a roaster and roast for about 1 hour 15 minutes or until the juices run clear when tested.
More Lemon Chicken Recipes

Lemon adds great flavour to chicken meat. Try some of my lemon chicken recipes below.

Lemon Roast Chicken Recipe

Fried Lemon Chicken Recipe

Lemon Chicken Casserole Recipe

BBQ Chicken Recipe

Honey Glazed Chicken Recipe

Roast Chicken Recipes Homepage

Chicken Recipe Search Tool

If you can't find what your're looking for, you might want to try our easy-to-use Chicken Recipe Search Box. You can also use it to find anything else you might want to search for on the wider web.