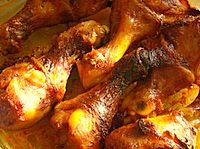 BBQ Chicken Recipe
Southern Barbecue Chicken Recipe Sauce
An easy (barbecue) BBQ Chicken Recipe for a cook-out. This recipe for BBQ chicken needs to be cooked on a barbecue with a lid or hood for best results.
Delicious Barbecue Sauce adding perfect flavour to the grilled chicken pieces.


The mopping chicken barbecue sauce is used during the process of cooking to regularly baste the chicken meat. This grilled barbecue chicken recipe has a tomato based barbecue sauce and needs to be prepared ahead of the cooking. The trick with chicken is getting the meat to cook through while not burning the outside or drying out the meat.
This Southern BBQ Chicken Recipe serves 6 people

BBQ Chicken Recipe Ingredients
How to Cook Southern BBQ Chicken
Place all the bbq sauce ingredients into a saucepan. Stir to combine them. Bring the bbq sauce to a simmer and continue to simmer over low heat for 15 – 20 minutes, stirring regularly. All ow the sauce to stand for 1 hour to cool and to allow flavours to blend.
Heat barbecue to moderate and oil the grill bars. Lightly sear the chicken pieces on all sides over direct heat for about 2 minutes each side, set the chicken aside on a plate.
Place half the sauce into a small pan and place by the barbecue. Place a sheet of silicon baking paper of the grill bars and prick at intervals between the runs to allow ventilation. Place the chicken onto the baking paper and brush all over with sauce.
Cover barbecue with the lid and cook for 5 minutes, lift the lid, brush chicken with sauce, turn and brush with sauce, close lid and cook 5 minutes. Repeat this process every 5 minutes for 40-45 minutes until chicken is rich brown in colour and cooked through. If chicken is cooking too quickly, reduce heat by turning down gas or rake the coals to the sides. Heat the barbecue sauce you set aside in a small saucepan on the barbecue.
Serve chicken with hot sauce and jacket potato cooked on the barbecue. Accompany with a salad.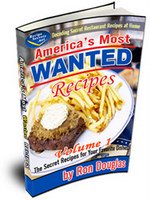 Looking for ideas for dinner?
Get inside the hidden cookbooks of America's favorite restaurants. The secret recipes for over 100 all-time favorite dishes have now been revealed in this best-selling new cookbook.
Prepare dishes you know they'll love and save money by easily making them at home.
Get free sample recipes just for visiting the site.
See the full list of Americas Most Wanted Secret Recipes
Chicken Recipe Search Box
If you can't find what your're looking for, you might want to try our easy-to-use Chicken Recipe Search Box. You can also use it to find anything else you might want to search for on the wider web.


Garlic Barbecue Chicken Recipe

More Grilled Chicken Recipe Ideas

More Chicken Marinade Recipe Ideas

Top Of Southern BBQ Chicken Recipe



Chicken Recipes Homepage