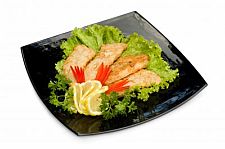 Easy Fried Lemon Chicken Recipe
Crumbed Chicken Steaks with Lemon Seasoning
This Fried Lemon Chicken Recipe is a similar to Chicken Schnitzel. A great way to cook chicken steaks and serve with mash potatoes or fries.



It uses skinless, boneless chicken breasts that you need to flatten into steaks. A little effort but cooking them is so rewarding especially for kids who'll love to help you beat the meat and coat it in crumbs.
Serves 4
Lemon Chicken Steak Recipe Ingredients
4 skinless chicken breasts
1 egg
15ml (1Tbs) cornflour
30ml (2Tbs) lemon juice
5ml (1tsp) sugar
30ml (2Tbs) chopped parsely
seasoning to taste
375ml (1 1/2 cups) fresh breadcrumbs
cooking oil for frying
Lemon Chicken Recipe Instructions
To make the chicken steaks, open out the chicken breasts by cutting them in half on their sides almost through to the edge. Flatten them out by placing baking paper over them and pounding them flat.
Beat together the egg, cornfour, lemon juice, sugar, seasoning and parsley.
Dip the chicken steaks in this egg mix and then coat with the bread crumbs.
Fry the lemon chicken breast pieces in hot oil until golden on both side and cooked through. Drain on absorbant kitchen towel.



More Lemon Chicken Recipes
Lemon Chicken Casserole Recipe
BBQ Chicken Recipe
Honey Glazed Chicken Recipe
Roast Chicken With Lemon Stuffing Recipe
If you enjoy roast chicken then try this
Roast Lemon Chicken Recipe
which has the lemon in the stuffing. It has a delicious smell when it's cooking and my family can barely wait for it to be served.
Chicken Recipe Search Tool
If you can't find what your're looking for, you might want to try our easy-to-use Chicken Recipe Search Box. You can also use it to find anything else you might want to search for on the wider web.
More Chicken Breast Recipes
Fried Chicken Recipes Mainpage
Chicken Recipes Homepage