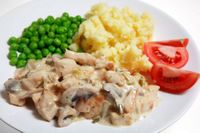 Chicken Thigh Recipe
Creme Fraiche and Bacon Chicken Thighs
Delicious and easy Chicken Thigh Recipe with creme fraiche, leeks and garlic will serve well with mashed potatoes or pasta. I love simple chicken recipes and this one makes enough for 4 people.


Bacon adds a richness and depth of flavor and combines well with the leeks and garlic. This is also a good recipe for chicken breast if you prefer to use them instead of chicken thighs. It's a quick chicken dish and so it saves you time while still being full of flavor.

Chicken Thigh Recipe with Creme Fraiche and Bacon
45ml (3 tbsp) butter
15ml (1 tbsp) olive oil
1 clove of garlic crushed
12 boneless and skinless chicken thighs
6 rashers streaky bacon, sliced
3 leeks, sliced
125ml (1/2 cup) creme fraiche
How to Cook Chicken Thighs with Creme Fraiche and Bacon
Melt the butter and oil in a frying pan. Saute the crushed garlic clove for a minute then add the chicken thighs and fry until golden.
Reduce the heat slightly, cover and cook for a further 10 minutes. Remove the chicken from the pan and set aside to keep warm.
In the same pan gently fry the bacon rashers and sliced leeks until crispy. Remove from the pan and set aside.
Place the fried chicken thighs back in the pan and add the creme fraiche. Cook through for about 1 minute then add the leeks and bacon. Cook until heated through for another minute and serve with pasta or mashed potatoes.
Chicken Recipe Search Tool
If you can't find what your're looking for, you might want to try our easy-to-use Chicken Recipe Search Box. You can also use it to find anything else you might want to search for on the wider web.




More Chicken In Sauce Recipes

Top of this Chicken Thigh Recipe

Chicken Recipes Homepage