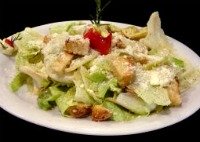 Chicken Salad Recipe
Spinach and Almond Chicken Salad
A simple Chicken Salad Recipe for summer entertaining with a delicious mustard and vinegrette dressing.



I was inspired to make this cool little salad when I was having a vegetarian friend over for supper who was fine with eating chicken.
The avocado is works well with the chicken but not everybody likes it so it's up to you whether you include it or not. This is very easy to assemble and goes well with warm, crusty bread. It serves about 4 people.
Chicken Salad Ingredients
50 oz / 145g button mushrooms
14 oz / 400g baby spinach leaves
6 spring onions
2 cooked chicken breast fillets (poached or fried)
1 medium avaocado cut into wedges or small blocks (optional)
3 oz / 85g slivered almonds, toasted

Salad Dressing Ingredients

3fl oz / 85ml olive oil (exra virgin)
30ml (2tbsp) lemon juice
15ml (1tbsp) white wine vinegar
1 clove garlic, crushed
10ml (tsp) Dijon mustard
3ml (½ tsp) brown sugar
salt and pepper to taste
⅛ tsp nutmeg
How To Make The Chicken Salad
Combine the mushrooms, spinach and spring onions in a salad bowl.
Slice the chicken into strips and combine with the vegetables except the avocado.
For the salad dressing, you whisk all the ingredients together and pour over the salad.
Add half the almonds and the avocado pieces and gently toss together. Scatter the remaining almonds over the top of the salad.
If you enjoy the chicken and spinach combination then try
Spinach and Pancetta Stuffed Chicken Breasts
Chicken Salad Recipe Ideas Mainpage

Chicken Recipes Homepage