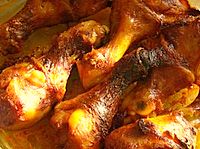 Mexican Chicken Recipe
Spicey Mexican Chicken Ideas and Cooking Instructions
A quick and easy Mexican Chicken Recipe for when you need to cook something spicey. It's a great baked chicken recipe that's so simple to prepare. This marinade also goes well with chicken wings for a delicious starter or snacks dish, in which case you can leave the chicken skin on.


Mexican Chicken Recipe Ingredients
I like to make this recipe for Saturday lunch because you can leave the chicken pieces to be eaten cold later on. This dish is best served with a salad and maybe some tortillas and salsa. It's a relaxed recipe so you can experiment with the amount of curry you put in the marinade. If I'm doing this recipe as a dinner then I like to serve it with rice.


3 tablespoons tomato sauce
1 teaspoon curry powder
2 tablespoons Worcester sauce
2 tablespoons chutney
A little crushed garlic
6 Chicken pieces (skin removed)
How to Cook Mexican Chicken
Mix above ingredients and spread over chicken and leave to marinate for a while.
Place in an ovenproof dish with all the sauce.
Cover and bake at 180 deg C or 350 deg F until chicken is cooked about 45 minutes.
Uncover and bake again till marinade has formed a sticky sauce over chicken.


More Spicey Chicken Recipes


Great Mexican Recipe for your next Mexican Theme party - Chicken Fajita Recipe

Spicy Chicken Marinade Recipe Ideas

White Chicken Chili Recipe

Crock Pot Chicken Chili

Crock Pot Chicken Tortilla Soup Recipe

Chicken Tortilla Soup Recipe

Top Of Mexican Chicken Recipe

Chicken Recipes Homepage