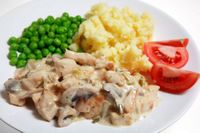 Creamy Chicken Stroganoff Recipe
Chicken and Pasta Recipe Smothered with Creamy Sauce
This Chicken Stroganoff Recipe was inspired by the classic beef stroganoff, traditionally strips of beef smothered in a buttery sour cream sauce and served over a hot cooked pasta or rice.



This is a great chicken pasta recipe for leftover chicken or using boneless chicken breasts. If you prefer a low-fat chicken recipe then Greek yogurt is a good substitute for the sour cream. It's thicker and creamier than regular plain yogurt but lower in fat and calories than sour cream. If you are looking for an easy chicken recipe to serve to your guests then this is both tasty and simple to make.


Chicken Stroganoff Recipe Ingredients
Sunflower oil for frying
1 large onion, chopped
2 cloves garlic, crushed
2 teaspoons brown mustard seeds
500g boneless chicken breasts, cut into strips
250g button mushrooms, sliced
2 tablespoons wholegrain mustard
1 teaspoon mustard powder
2 tablespoons brandy
125ml ½ cup chicken stock
170ml 2/3 cup sour cream or Greek yogurt
salt and milled pepper
How To Make Chicken Stroganoff
Heat the oil in a large frying pan. Saute onion and garlic until translucent.
Add mustard seeds and cook until they begin to pop, then add chicken strips and brown them. Add mushrooms and stir-fry for another minute.
Stir in wholegrain mustard, mustard powder and brandy. Add stock and cook for another 5 minutes.
Add cream and heat through (do not boil). Season to taste and serve with rice or pasta.
(White wine or sherry may be used instead of brandy.)


More Recipes For Chicken Cooked in Creamy Garlic Sauces
Creme Fraiche, Garlic and Bacon Chicken Thighs
Chicken Ala King Recipe
is another chicken in wine sauce recipe that's a good old classic.
Chicken Alfredo Sauce Recipe
has a creamy sauce with parmesan cheese to bring that rich flavor. Another personal favourite of mine.
Chicken Marinade Recipes
Top Of Chicken Stroganoff Recipe
Chicken Recipes Homapage
Our "Cooked Up" Newsletter
You might love to receive our personal newsletter called Cooked Up. It's packed with great recipes, cooking tips and other interesting news. I invite you to safely subscribe in the form below..... Oh and of course it's free!
Chicken Recipe Search Tool
If you can't find what your're looking for, you might want to try our easy-to-use Chicken Recipe Search Box. You can also use it to find anything else you might want to search for on the wider web.