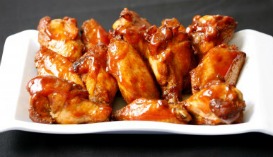 Chicken Satay Recipe
Chicken Wings in Satay Sauce
When I discovered this Chicken Satay Recipe with peanut sauce, we were dining at my favourite Chinese restaurant and my friend said I should order something that I'd never tried before. The chef there seems to be trained to transform ordinary ingredients into marvellous meals.
Do your own Chinese food instead of getting take-out.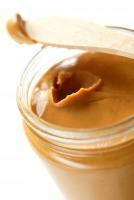 Within a short time our table was furnished with an array of delicious treats. We all agreed that the Satay Chicken Wings were the best and as I usually do, I begged the waiter to ask the chef for his recipe.
Amazingly he actually obliged but said that he couldn't reveal the 'secret ingredient'. Now I never know if this is true or not when chefs tell me these things because so often the recipe ends up tasting the same when I try it at home. The only thing I changed was adding a bit of extra brown sugar because my sauce didn't taste quite as sweet as the restaurant version.
Of course I've added it to my Thai Chicken Recipe Collection if you want to have a look there for some other Asian chicken recipes.
It makes a fantastic starter or snack at a barbecue or cocktail party. If you are looking for a tasty Chicken Wings Recipe then this is a definite winner.

The satay sauce is made with a hint of chili to spice things up and the grated onion gives it a bit of extra texture. Satay sauce can be served with a number of other foods. It's lovely over vegetables. It can also be used to marinade beef or pork and used in stir fry.
Chicken Satay Recipe Ingredients
1kg (2lb) chicken wings (works out to be about 30 wings)

Satay Sauce Ingredients

185g (6 oz) peanut butter
3/4 cup (185ml / 6 fl oz) water
2 Tablespoons brown sugar
pinch of chili powder
1 Tablespoon soy sauce
1 Tablespoon grated onion
1 teaspoon lemon juice
1/2 teaspoon balsamic vinegar
Chicken Satay Sauce Recipe Instructions
Combine the Satay Sauce ingredients in a saucepan.
Heat and simmer for 5 minutes then allow to cool.
Preheat the oven to 180 C, 350 F or gas mark 4.
Rinse the wings and dry with a paper towel. I like to keep my wings whole but you can cut them on the joint to make two pieces if you like.
Place the wings in a bowel and pour over about 1/2 cup (125 ml) of the satay sauce marinade. (Keep the rest of the sauce to use later).
Cover the chicken wings and leave marinate in the refrigerator for 2 hours.
Place the marinated chicken wings with underside up on a rack over a shallow dish or tray lined with foil.
Bake in the oven for 15 minutes.
Turn the wings and brush with the satay sauce you used to marinade them. Cook for a futher 20 minutes.
Turn up the oven heat to 200 C, 400 F or gas mark 6. (If necessary brush again with the marinade sauce.) Cook for 5 minutes to crisp them up. Be careful not to let them burn.
Remove from the oven and serve the Satay Chicken Wings on a platter as hot finger food with the original, fresh satay sauce to dip (not the marinade batch).
More Grilled Chicken Recipes
Marinade and Sauce Recipe Mainpage
Top of this
Chicken Satay Recipe
Chicken Recipes Homepage