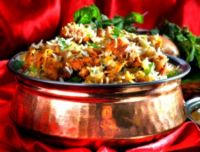 Spanish Chicken Stew Recipe
Spanish Chicken Stew with Spicy Chorizo Sausage
One of those easy chicken recipes - Spanish Chicken Stew Recipe - with spicy chorizo sausage is perfect for a winter warmer supper idea. It has classic Spanish cooking ingredients such as chorizo, paprika and tomato.

"Spanish Food Goes Wild With Flavour"
This is a homely stew that smells incredible and tastes glorious but doesn't need too much attention. If I cannot find chorizo sausage then my favourite substitute is bacon - not officially Spanish but it still adds great flavour to the chicken stew. Instead of the polenta or couscous, you could also get lovely fresh bread to soak up the juices and gravy.

Spanish Chicken Stew Recipe Ingredients
30ml (2tbsp) olive oil
8 chicken pieces (thighs and drumsticks)
salt and freshly ground black pepper, to taste
5ml (1 tsp) smoked paprika
1 onion, chopped
2 garlic cloves, finely chopped
1 medium sweet red pepper
124g chorizo sausage, sliced
125ml (1/2 cup) white wine (good quality)
2 x 400g tins chopped tomatoes
6 sprigs fresh thyme, chopped
2 bay leaves
100ml chicken stock
4 medium potatoes, cut into chunks
200g black olives, pitted
couscous or polenta, to serve
How To Cook Spanish Chicken Stew
1. Heat the oil in a large saucepan. Brown or sear the chicken pieces in batches until golden brown. Season with salt, pepper and smoked paprika. Remove the chicken pieces from the saucepan and set aside.
2. Use the same saucepan to fry the onion, sweet pepper and garlic until soft. By using the same pan we retain all the wonderful flavors. Add the chorizo sausage and fry for 1-2 minutes. Add the wine, tinned tomatoes, thyme, bay leaves and stock. Place the chicken pieces back in the pan. Put the lid on and simmer gently for 15 minutes.
3. Add the potatoes and cook for a further 30 minutes over low heat.
4. Stir through the olives and serve with soft polenta, couscous or bread.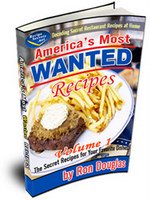 Looking for ideas for dinner?
Get inside the hidden cookbooks of America's favorite restaurants. The secret recipes for over 100 all-time favorite dishes have now been revealed in this best-selling new cookbook.
Prepare dishes you know they'll love and save money by easily making them at home.
Get free sample recipes just for visiting the site.
See the full list of Americas Most Wanted Secret Recipes
Find Your Favourite Chicken Recipe
If you can't find what your're looking for, you might want to try our easy-to-use Chicken Recipe Search Box. You can also use it to find anything else you might want to search for on the wider web.
Chicken Scarpariello Recipe
is a similar recipe to Spanish Chicken Stew but uses bacon instead of chorizo.
More Chicken Casserole and Stew Recipes
Top of
Spanish Chicken Stew Recipe
Chicken Recipes Homepage