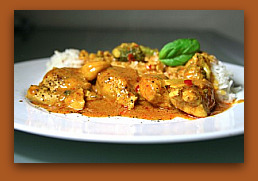 Yummy Apricot Chicken Recipe
Apricot and Mustard Baked Chicken
A very simple but delicious Apricot Chicken Recipe with a fruity sauce to bake chicken pieces in. I love chicken recipes where you just put the dish in the oven and let it cook.



The result is chicken so tender, fruity and succulent and so much flavor with the mustard and herbs.
Apricots remind me of my childhood. Our beautiful apricot tree in the back garden marked that Spring was on it's way when the thousands little buds would burst forth delicate pink blossoms that was a sight to behold. Then it hung heavy with delicious fruit every summer. It was an amazing tree to climb and gave me many hours of fun. My mum made awesome apricot jam and we shared with the neighbours. Even our dogs ate the apricots.
For this recipe, it's recommended to use chicken thigh pieces and I love Chicken Thigh Recipes but you can use chicken breast pieces and they work just as well. You can vary the recipe a bit by adding chopped onion, carrots and mushrooms. See the rave reviews below.




Apricot and Mustard Baked Chicken Thigh Recipe Ingredients
Serves: 4
8 chicken thighs, bone in, skin off

For the Basting sauce:

2 tbsp (30ml) wholegrain mustard
1 tbsp (15ml) prepared English Mustard
1 can (400g) apricots in fruit juice, drained and quartered (set the juice aside)
1/2 cup (125ml) reserved apricot juice
1 tbsp (15ml) reduced-sugar or low-GI marmalade
1/2 cup (125ml) chicken stock (1 tbsp - 15ml stock powder)
1 tbsp (15ml) thyme, sage or rosemary leaves
salt and milled pepper
How To Cook Apricot Baked Chicken
Preheat the oven to 180 C.
Wipe the chicken pieces with a damp cloth and place in a snug baking dish. Avoid using too big a dish.
Mix all basting ingredients together and pour over the chicken.
Cover tightly with foil and bake for 30 minutes.
Remove foil, baste the chicken, cover and cook for a further 20 minutes. Season to suite your taste.
Serve with a salad and mashed potatoes or steamed rice.

Apricot Chicken Recipe Reviews

***Loved this recipe. So easy and the kids loved it. I baked it for about 2 hours and the chicken was so tender and has so much flavour. I found it made a lot too. It fed 2 adults and 2 kids and we still had leftovers. Thanks***

***We used a crusty French loaf to mop up the extra sauce.***

***Old family favourite and I always have ingredients on hand. Such a winner when cooking for visitors.***

***We used chicken breasts, they came out really tender and this is a regular on our week night dinner menu. Just put it in the oven and let it cook.***

***This Apricot Chicken Recipe is great and so simple. The extra nice thing was I had all the ingredients at home already. No special shopping trip... bonus. I haven't made apricot chicken in years but will be cooking this again that's for certain!***





Chicken Recipe Search Tool


If you can't find what your're looking for, you might want to try our easy-to-use Chicken Recipe Search Box. You can also use it to find anything else you might want to search for on the wider web.







Apricot and Ground Chicken Recipe - Apricot Chicken Meatloaf

Another Fruity Chicken Recipe - Mango Chicken

More Grilled Chicken Recipe Ideas

More Chicken Marinade Recipe Ideas

More Delicious Baked Chicken Recipes

More Chicken Breast Recipes

Top Of This Apricot Chicken Recipe

Chicken Recipes Homepage