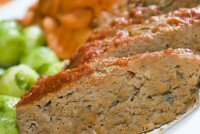 Ground Chicken Recipe
for Apricot Chicken Meatloaf
An Easy Meatloaf Recipe! This Ground Chicken Recipe is very convenient and simple to prepare. It has apricots and mango chutney that add a wonderful flavor to the meatlaof. It's very good served with Mashed Potatoes



I'm fond of any apricot chicken recipe because the apricot flavor combines well with the chicken meat.
You can experiment with the spices. Maybe add a little curry pwder or chopped chili if you enjoy hotter food.

Ground Chicken Recipe Ingredients
700g (1 lb / 7 oz) ground chicken
60g (2 oz) fresh breadcrumbs
90g (3 oz) spring onions (green onions), chopped
1 tablespoon finely chopped parsley
2 tablespoons diced dried apricots
1 tablespoon mango chutney
1 teaspoon crushed garlic (optional)
1 teaspoon mild curry powder (optional)
1 egg
1 teaspoon salt
¼ teaspoon pepper
oil for greasingserves 6
How To Cook Apricot Chicken Meatloaf
Preheat your oven to 180°C (350°F, gas mark 4). Place the ground chicken in a large mixing bowl. To the chicken meat, add breadcrumbs, spring onions, parsley, garlic, curry powder, apricots, chutney, egg, salt and pepper. With your clean hand, mix and knead mixture for 2-3 minutes to combine ingredients well and to give a fine texture.
Grease a 22 x 8 x 5cm loaf tin with oil. Spoon the ground chicken mixinto the tin. Place in the oven and bake for 50-55 minutes. To test if the meatloaf is done, insert a skewer into the center and if clear juice appears it is cooked. If the juice is a pink colour further cooking is required. Rest in the tin 10 minutes before turning out.
The tricky part about a meatloaf recipe is getting the whole lot to stay together when turning it out. Provided that there was enough egg and breadcrumbs for binding, you should be okay and of course practise does help. Be gentle when turning the meatloaf out.

Ground Chicken Recipe - Cheesy Chicken Burgers

Baked Chicken Recipes

Top of This Ground Chicken Recipe

Chicken Recipes Homepage