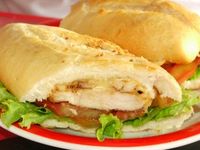 Ground Chicken Recipe
Chicken Cheese Burger

I was looking for a ground chicken recipe to use up some chicken mince I had. Then I had an idea, why not make Chicken Burgers. They are much healthier than regular hamburgers and simple to make. They can be served with mayo mixed with sweet chili sauce or tomato chutney or any favourite sauce.



You don't have to add the cheese. This recipe is easily changed to make teriyaki burgers or barbeque burgers by adding some different ingredients. You can use an egg (beaten) instead of the sour cream to bind the mixture.
Ground Chicken Recipe - Chicken and Cheese Burgers
Preparation time: 40 minutesTotal cooking time: 10 - 15 minutesMakes: 6
oil, for cooking
1 large onion, finely chopped
750 g (1 1/2 lb) chicken mince (ground chicken)
1 teaspoon paprika
1 - 2 teaspoons chopped red chilli
3/4 cup (60 g/2 oz) fresh breadcrumbs
1/3 cup (90 g/3 oz) sour cream
2 tablespoons chopped fresh lemon thyme or chives
6 slices of Cheddar cheese
30 g (1 oz) butter
1 -2 cloves garlic, crushed
6 crusty bread rolls
lettuce, tomato, extra sour cream, pickled cucumbers and sweet chilli sauce, to serve
How To Make Chicken Burgers
Fry the onion in a bit of the oil over medium heat until golden. Drain the onion on paper towels and cool slightly.
This is where it gets messy. Wash you hands thoroughly and then get ready to mix with your fingers. COmbine in a large bowl the onion, chicken mince, paprika, chilli, breadcrumbs, sour cream, lemon thyme and some salt and freshly ground black pepper. Mix it well using your hands.

Divide the mixture into 6 equal portions and shape into round balls. Press a piece of cheese into the centre of each ball and mould the mixture to completely enclose the cheese. Flatten the balls slightly and shape to make chicken burger patties.

Heat the butter and 1 tablespoon of oil in a large frying pan. Add the garlic. When the mixture is foaming, add the patties, pressing with a spatula to flatten slightly. Cook over medium heat for about 3 minutes on each side, or until the patties are browned and cooked through and the cheese melted.
Cut the bread rolls in half. Toast if you prefer and spread with a little butter. Fill with lettuce and tomato slices, a chicken patty, sour cream, some pickled cucumbers and sweet chilli sauce.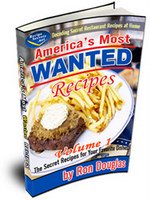 Looking for ideas for dinner?
Get inside the hidden cookbooks of America's favorite restaurants. The secret recipes for over 100 all-time favorite dishes have now been revealed in this best-selling new cookbook.
Prepare dishes you know they'll love and save money by easily making them at home.
Get free sample recipes just for visiting the site.
See the full list of Americas Most Wanted Secret Recipes
Find Your Favourite Chicken Recipe
If you can't find what your're looking for, you might want to try our easy-to-use Chicken Recipe Search Box. You can also use it to find anything else you might want to search for on the wider web.


Apricot Chicken Meatlaof is another great Ground Chicken Recipe

Top Of this Ground Chicken Recipe

Chicken Recipes Homepage