Chicken Thigh Recipe
French Chicken Chasseur

I needed an elegant deboned Chicken Thigh Recipe for a dinner party. This Chicken Chasseur Recipe worked wonderfully and I served it with brown Basmati Rice.



My other Chasseur Recipe has a cup of cream in it so it has a gorgeous, rich sauce but not everyone likes creamy sauces and of course extra calories. Chicken Chasseur can also be served with mash potato or over the pasta of your choice.
Chicken Thigh Recipe - Chicken Chasseur
Serves: 4
8 skinned and boned chicken thighs
half a cup of fresh thyme leaves
2 tbsp olive oil
100g (about 3) shallots, finely chopped
2 garlic cloves, crushed
1 tbsp tomato puree
200ml dry white wine
200ml chicken stock
300g small chestnut mushrooms, halved (or white mushrooms)
2 fresh bay leaves
200g fresh or canned chopped tomatoes
2 tbsp fresh flat-leaf parsley, chopped
Chicken Chasseur Cooking Instructions
Prepare all your ingredients before you start cooking.
Open out the chicken thighs and place skinned-side down on a work surface. Sprinkle with half the thyme and some salt and pepper. Roll the chicken thighs back into shape and tie at each end with a piece of string.
Heat a deep, non-stick frying pan over a medium-high heat. Add 1 tbsp oil and fry the chicken pieces until lightly browned all over. Set the fried chicken thighs aside - they will be added back to the pan to cook through later.
Add the rest of the olive oil, shallots and garlic to the pan. Saute these for 4-5 minutes until lightly browned . Stir in the tomato puree and cook for 1 minute. Then add the wine and chicken stock, bring to the boil. Add the chicken thighs back to the pan with the mushrooms, remaining thyme, bay leaves and some seasoning.
Cover and simmer for 10 minutes. Uncover, stir in the tomatoes and simmer for 30 - 35 minutes. Turn the chicken now and then, cooking until tender and the sauce has reduced. Sprinkle with the parsley and serve with rice, pasta or mashed potatoes.




Another Chicken Thigh Recipe - Creme Fraiche and Bacon Chicken Thighs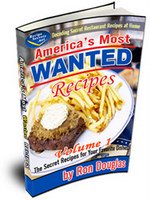 Looking for ideas for dinner?
Get inside the hidden cookbooks of America's favorite restaurants. The secret recipes for over 100 all-time favorite dishes have now been revealed in this best-selling new cookbook.
Prepare dishes you know they'll love and save money by easily making them at home.
Get free sample recipes just for visiting the site.
See the full list of Americas Most Wanted Secret Recipes
Chicken Recipe Search Box
If you can't find what your're looking for, you might want to try our easy-to-use Chicken Recipe Search Box. You can also use it to find anything else you might want to search for on the wider web.


More Recipes For Chicken Cooked in Sauces

Top of this Chicken Thigh Recipe for Chicken Chasseur

Chicken Recipes Homepage