Mexican Chicken Salad Recipe
Avo & Chicken Salad Recipe with Mixed Beans
This Mexican Chicken Salad Recipe does a great job for a light lunch. Use up your left-over chicken or you can cook chicken breast. There's some chili powder included for a bit of a bite.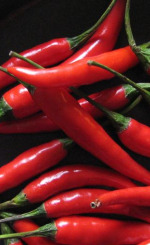 The Avocado and beans make it quite filling and it can be served with pasta or fresh bread rolls. If you have any over, this chicken salad can be refrigerated and makes a great packed lunch. Easy to make from my Mexcian Chicken Recipe Collection

Chili Chicken Salad With Beans and Avo
Serves 2
1 medium chicken breast, skinless (about 120g)
90g of mixed beans, canned and drained
60g of avocado
4 cherry tomatoes
1/3 red pepper
2 teaspoons of olive oil
1 teaspoon of lime juice
¼ teaspoon of chilli powder
Avocado Chicken Salad Instructions
Cook the chicken breast by grilling it or frying it in a pan with a bit of olive oil and butter.
Cut the chicken into strips and place in a bowl with beans, sliced avocado, halved tomatoes and strips of pepper.
Mix together the olive oil, lime juice and chilli powder and drizzle over the salad.
More Easy Chicken Recipes
Like cooking with beans? This
Lemon Chicken Casserole
has beans to make it hearty and filling - perfect for a winter dinner idea.