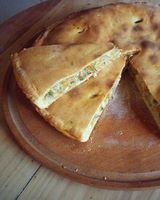 Chicken Pie Recipe
Chicken Pie with Leeks and Cream
This Chicken Pie Recipe is a bit of a cheat's method because you get to use ready-made puff pastry. Of course you are welcome to make your own pastry.



This is a very simple pie recipe with not too many ingredients and for those who don't like mushrooms, well there are none required for this pie recipe. The main ingredients are leeks and spring onions and these give the pie filling a lovely flavour.


Chicken Pie Recipe Ingredients
50 grams (1 ¾ oz) butter
2 large leeks, washed and thinly sliced
4 spring onions, sliced
1 clove garlic, crushed
¼ cup (30 grams / 1 oz) plain flour
1 ½ cups (375 ml / 12 fl oz) chicken stock (homemade or bought)
½cup (125 ml / 4fl oz)cream
cooked chicken meat from 1 medium sized chicken, chopped into bite size bits
2 sheets ready-made puff pastry (thawed)
¼ cup (60ml / 2 fl oz) milk
salt and pepper to taste
How to Make Chicken and Leek Pie
Preheat the oven for the baking time to 200 deg C or 400 deg F (Gas mark 6).
Melt the butter in a pan and fry the leeks, spring onion and garlic until the leek is soft. Do not brown the leeks.
Remove the pan from the heat and sprinkle in the flour, mix well. Return to the heat and keep stirring for about 1 minute.
Pour the chicken stock in gradually, still stirring well until the mixture is thick and smooth.
Stir in the cream and the cooked chicken and then add your seasoning to suit your taste.
Pour the mixture into a shallow 20cm (8 inch) pie dish and set aside to cool.
Cut a circle out of one of the sheets of puff pastry to cover the top of the pie.
Brush around the rim of the pie dish with a little milk.
Lay the pastry on top of the filling in the pie dish and seal firmly around the edges.
Trim off any overhanging pastry and decorate the edge with the back of a fork.
Make a few small holes in the top of the pastry to let out any steam and brush the top of the pastry with milk.
Bake or 25 - 30 minutes or until the pastry is golden brown and crispy.
Top of this Chicken Pie Recipe with Cream and Leeks

Chicken Pie Recipes Collection


Chicken Recipes Homepage