Classic Chicken Divan Recipes
Try a Chicken Divan Recipe
Chicken Divan recipes are very popular because Chicken Divan has become a classic American Chicken Casserole dish. It is a chicken casserole usually served with broccoli, almonds and Mornay sauce.


Mornay sauce is a white sauce with grated cheese melted into it. Usually iit's made with half gruyère and half parmesan cheese.
With the instant age that we live in, many people prefer quickand easy recipes so below are two very easy Chicken Divan Recipes that use cream of chicken soup and cream of mushroom soup instead of making the proper Mornay sauce. The third recipe is for "proper" Chicken Divan made with real Mornay sauce.

Easy Chicken Divan Recipes
Easy Chicken Divan Recipe 1
serves 4 - 6
4 deboned chicken breasts
2 cans cream of chicken soup
1 tsp. lemon juice
1 cup grated cheese with strong flavor
2 (10 oz.) pkgs. frozen broccoli
1/2 cup soft bread crumbs, mixed with 2 tsp. melted butter
1 cup mayonnaise
How to Cook Chicken Divan
Cook the chicken breasts however you prefer until they are tender and just cooked through. Cook broccoli and drain. Arrange broccoli in a greased casserole dish. Place halved chicken breasts on top of the broccoli. Mix together the soup, mayonnaise and lemon juice. Pour this sauce over the chicken and broccoli. Sprinkle cheese and bread crumbs on top. Bake at 350 degrees for 25 minutes. Serve with rice.




---
Easy Chicken Divan Recipe 2
Serves 4-6
1 lb. cooked chicken meat
1/2 lb. brocoli, cooked and chopped
1 cup grated cheese with strong flavor
1 can cream of mushroom soup
1 cup croutons
How to Cook Chicken Divan
Preheat oven to 350 degrees.
Chop the chicken into bite-size pieces. Mix the chicken, broccoli, cheese and soup together. Pour into a casserole dish. Place croutons on top. Bake at 350 degrees for 30 minutes or until hot.
---
Real Chicken Divan Recipe
Serves 6
4 cups cooked chicken, diced
8 ounces sauted sliced mushrooms
1 package (10 ounces) broccoli spears, cooked and drained
Sauce:
2 tablespoons butter
2 tablespoons flour
2 cups chicken broth
salt and pepper, to taste
1/8 teaspoon nutmeg
1/4 cup Parmesan cheese
1 tablespoon cooking sherry
2 egg yolks, lightly beaten
Chicken Divan Recipe Instructions
Layer the chicken, broccoli and mushrooms in a casserole dish. Make a smooth paste by melting the butter in a saucepan over low heatand stirring in flour until smooth and well blended. Remove from heat and gradually stir in the chicken broth. Place back on heat and slowly bring to a boil, stirring continuously.Simmer for 1 minute then stir in salt, pepper, and nutmeg. Remove sauce from heat add Parmesan cheese and sherry then stir in the slightly beaten egg yolks and bring to the boiling point again. Pour over chicken and vegetables in the casserole dish. Bake at 350 degrees F or 180 degrees C for 20 to 25 minutes, or until bubbly and browned.
---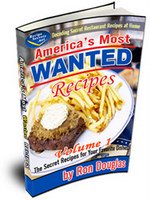 Get inside the hidden cookbooks of America's favorite restaurants. The secret recipes for over 100 all-time favorite dishes have now been revealed in this best-selling new cookbook.
Prepare dishes you know they'll love and save money by easily making them at home.
Get free sample recipes just for visiting the site.
See the full list of Americas Most Wanted Secret Recipes
Chicken In Sauce and Marinades
Chicken Casserole Recipes
Easy Chicken Recipes Homepage