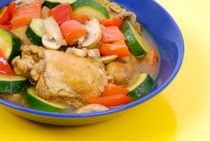 Easy Chicken Casserole Recipe
Glorious Chicken and Vegetable Casserole
How I upcycled this Easy Chicken Casserole Recipe.
With the trend of recycling becoming more popular, it's hard not to get caught up in doing my bit for the environment. Wherever I can I try to buy items that have been made with upgraded, recycled materials, especially when it comes to gifts.



Then I had a moment of genius and decided to make supper as a birthday gift for a friend. That's where this chicken casserole came in. I cooked a large quantity so there was enough for her to freeze left-overs as well as enough to feed my family.
So how does this benefit the environment? Well I saved my friend electricity by doing the cooking for us all. I used home-grown vegetables and then recycled vegetable peels back into the wormery for compost.
This is a very simple stew recipe and you can easily add other ingredients to suit your taste. It is made with a variety of vegetables (making it easier to get the 3-a-day quota done). I prefer to have all natural ingredients in my cooking, but the instant gravy powder in this Chicken and Vegetable Casserole really enhances the flavour.


Chicken Casserole Recipe Ingredients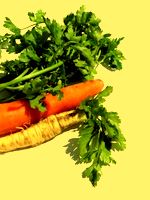 I like this easy recipe because you don't even have to brown the chicken pieces before placing them in the casserole dish. It already has a good amount of potato but you could serve it with rice as an extra starch. Serves 4 - 6 people
1 teaspoon salt
½ teaspoon black pepper
2 tablespoons flour
1 teaspoon instant gravy powder
8 chicken thigh pieces
800g (1½lb) peeled and sliced potatoes
2 medium onions,chopped
3 celery sticks, sliced
4 carrots, sliced into rounds
3 tablespoons, chopped parsley
2 cups (20 fl oz / 1pt) chicken stock
Chicken Casserole Cooking Instructions
Mix the salt, pepper, flour and gravy powder together in a bag.Place chicken pieces in the bag and shake well to coat the chicken evenly. Take out the chicken and discard the bag.
Butter the inside of a casserole pot and layer half the sliced potatoes in the bottom. Top with half the vegetables and scatter over chopped parsley.
Lay chicken pieces over the vegetables and then cover with the remaining vegetables. Overlap the rest of the potato slices to cover.
Pour the chicken stock down sides of the dish, not over the chicken. This prevents the seasoned flour from washing off the chicken.
Place the lid on the dish and bake in oven at 180C (400 F) for 1½ hours. Remove the lid and continue cooking for another ½ hour until the top is nicely browned.

Chicken Casserole Recipes Mainpage




Chicken Recipe Search Box
If you can't find what your're looking for, you might want to try our easy-to-use Chicken Recipe Search Box. You can also use it to find anything else you might want to search for on the wider web.